2Madison Avenue charms New York Fashion Week
JOSA LUKMAN
THE JAKARTA POST
Indonesian label 2Madison Avenue has made another return to New York Fashion Week (NYFW), showcasing its latest collection "Liga" (League) for the Fall/Winter 2020 season.
The brand, helmed by Maggie Hutauruk-Eddy, staged its presentation on Feb. 10 at 417 Broadway in New York City's Soho district. A fashion shot of its latest collection was also used in NYFW's advertising for the season, with an ad displayed at the Nasdaq MarketSite building in Times Square.
2Madison Avenue shared the stage with seven other Asian designers as part of the Council of Asian Designers of America (CADA) Collective and had the honor of being the sole Indonesian representative in the show.
Monday's show marked the third time in a row that 2Madison Avenue has showcased at NYFW. Its previous collection, "Vivify The Block" for Spring/Summer 2020, achieved internet fame for the use of Bogasari brand Segitiga Biru flour as a statement top.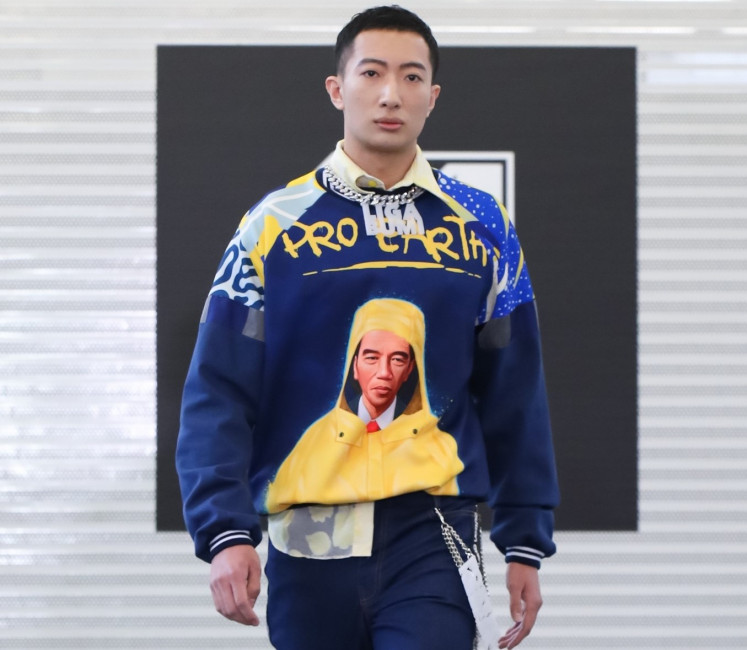 Climate call: President Joko "Jokowi" Widodo's image in the collection is Maggie's expression of hope that Jokowi will soon be "in Greta's league". (Courtesy of Bianca Barben Photography/-)
For Fall/Winter, Maggie ditched the food packaging for something more political. Instead of flour, "Liga" brought with it an environmental message that was visible in a slogan proclaiming "pro earth" in a suitably earth-tone men's coat.
Perhaps more strikingly, the collection bears the face of Greta Thunberg, the Swedish schoolgirl and climate activist who has become the face of the climate movement.
A print image of Thunberg's hooded visage was the main element of 2Madison Avenue's opening look. It was incorporated into a sleeveless top worn under a yellow hooded raincoat that resembles the very hood worn by Thunberg in the image itself.
Another usage of the print is worked into a rich cobalt blue jumper. Thunberg's yellow hoodie provided vibrancy to the garment while black-and-white detailing on the neck and hemline balanced out the colors.
"Ever since I became aware of [Thunberg's] campaign I could not stop thinking about her message. I am so fascinated by her, that someone so young can make such an impact.
"While 'normal' teens would rather take selfies or post on TikTok, she invests her energy and time in her powerful global campaign on climate action," Maggie wrote on her Instagram account @2maggieson.
An image of controversial United States President Donald Trump clad in Thunberg's yellow jacket is also present in the collection, with the words "pro earth" above him and Thunberg's face on the opposite side of the garment.
2Madison Avenue's signature touch of Indonesian whimsy was also present – albeit more serious compared to last season's – with the faces of former maritime affairs and fisheries minister Susi Pudjiastuti and President Joko "Jokowi" Widodo seen on different outfits. In the artistic depictions, the two Indonesians are wearing Thunberg's yellow hooded jacket.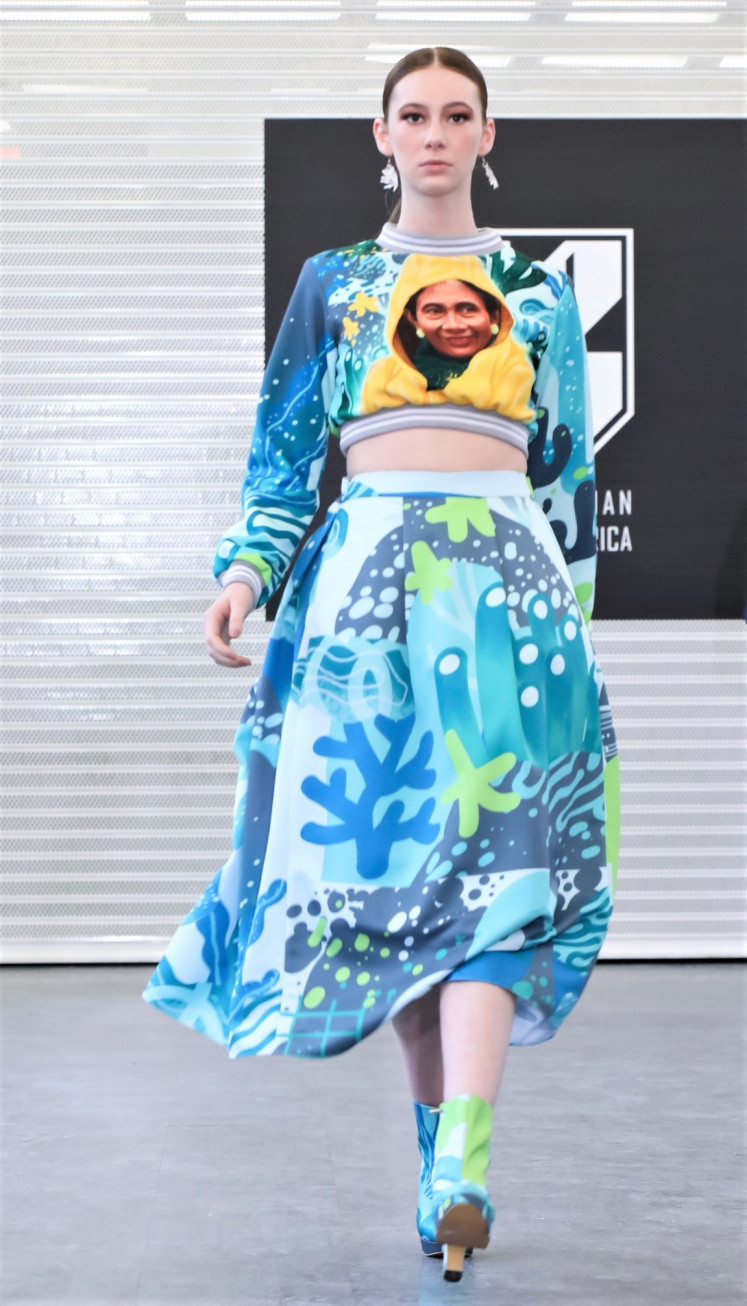 President Jokowi's face was seen on a jumper similar to the one with the Thunberg image, with the notable addition of the "pro earth" slogan in yellow above the image – likely a call for him to be more proactive over Indonesia's climate woes.
Meanwhile, Susi's hooded face was present on a cropped mock-neck top, the yellow contrasting with the garment's green and blue patterns, which evoked underwater corals and plants.
Together, all the looks fall under the collection's central message about climate.
"I have come to realize that I can use the [NYFW] platform to express more than just fashion. So I brought my President Jokowi to NYFW! [...] It is an expression of my hope that he will soon be in Greta's league," Maggie said.
Despite the serious message, the brand's playful identity was still as prominent as ever, present in the clashing patterns and textures that somehow worked together to create a harmonious medley of color.
One notable upcycling instance, similar to the iconic Segitiga Biru shirt but arguably not as catchy, was a long men's jacket cut from a gunny sack bearing the words "Export Tanzania". 
Maggie explained the sack was originally found in an Indonesian market after having come from Tanzania and before making its runway debut at NYFW. (ste)
https://www.thejakartapost.com/life/2020/02/13/2madison-avenue-charms-new-york-fashion-week.html